I had a chance to reflect on this year from on top of the Sydney Harbor Bridge. I was there celebrating UNIGLOBE's 30th Chairman's Circle in Sydney, Australia.
The view, from one of the world's most famous bridge's, maintains Sydney's place in my list of the six most beautiful cities of the world:
1) Rio De Janeiro, Brazil
2) Capetown, South Africa
3) Sydney, Australia
4) San Francisco, USA
5) Vancouver, Canada
6) Hong Kong, China
In 2013, economies have grown all over the globe, despite the negative predictions of the media. The Charlwood Pacific Group of companies, specifically CENTURY 21 and UNIGLOBE have always had a very local focus for every office, which has sustained our prominence in these different industries. Being internationally coordinated but locally prominent is what has kept our businesses consistent for the last 40 years ─ longer than almost all others in both the real estate and retail travel industries, as divergent as these businesses are.
Even in Sydney, it was hard to forget beautiful Kelowna, Canada, where the CENTURY 21 Canadian Conference was held in September. Kelowna is wine country and we enjoyed some superb summer weather and views of the giant Lake Okanagan. I especially liked the "Inside the Franchise Studio" event, a new live-interview session where our experienced management was able to provide in-depth advice and answer questions. I've always enjoyed the buzz of these events, catching up with old friends, and getting updates on the incredible technology we continue to make. So much has changed!
This year has also brought other changes. Everywhere I travelled, I was reminded of John Henry, a true friend and a major contributor to our successes…always ready and willing to do whatever it took at a moment's notice . He was not only a major influence at UNIGLOBE but also one of my key executives at CENTURY 21 in its early days. John passed away suddenly in October.
Even when I travelled within Australia in the past few weeks , the hotels served Badoit as the sparkling water choice – John looooovedddd Badoit!!!! I appreciate the memories of John that many from among our companies have shared with me. He was my ambassador par excellence.... no one could have wished for better.
As I stood there on the bridge….glancing over Sydney, its magnificent harbor and Opera House, 40 years of friendship brought back memories of our travels together….the battles fought side by side…and the many laughs and successes we enjoyed together.
As to "tomorrow"….I have a good feeling. The next five years are going to be exceptional for all of us!!
Happy holidays and I wish you all good health and good humor for 2014!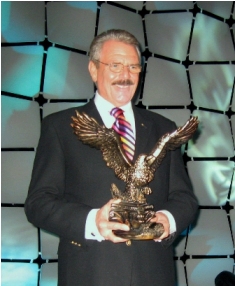 October 3, 2011 - There are few things I enjoy more than a great story (perhaps it's only rival is watching European soccer). So, when I was prodded about coming up with a story about my 35-year history as the founder and leader of
CENTURY 21 Canada
, I must admit I felt a little pressure.
So what is the story of CENTURY 21 Canada?
For me, the evolution of CENTURY 21 in Canada is more about perseverance than the minute details of the company. Our story is an example of how – as budding entrepreneurs – no matter what the obstacles, you can succeed in building your own business with the right attitude and team behind you.
When I first bought the rights to the CENTURY 21 brand in Canada – I was a relative newcomer to the real estate business. What did I know? Not much at the time…but that may have been my "edge"…I wasn't bogged down by what "was" but inspired by what "could be". So after personally selling 118 homes in my first 15 months in the industry (and just a wee bit of bravado from my side)…my competitors were a little worried as they circled their wagons.
I didn't get into CENTURY 21 right away. First I bought a local company called 'Hunt Realty' and saved up enough capital to partner with a business associate to buy the Canadian franchise rights to a rising brand in the U.S. called CENTURY 21. I bought my partner out more than 20 years ago, but back in 1975 my competition said, "It will never work in Canada". I was even told by the local real estate commission that franchising was 'illegal' in the real estate business. This would be when most entrepreneurs would fold their cards and walk away, but instead my team took up the challenge.
CENTURY 21 Canada was the first expansion of the brand outside of the U.S.A., and despite having the American powerhouse behind me, I had to convince investors that the franchise model worked for Canada. Plus, we had no staff. If there were any questions from potential franchisees, my sales team would say "Let me check with our marketing department, or our finance department." Then they would promptly get on the phone or come to the office and all four of us – who made up the marketing, finance and sales department – and we would come up with a solution.
In 1976, my then 4-man team worked on developing the western provinces. I would spend three weeks at home in Vancouver and three weeks travelling the country. By the fall of 1976 we had over 80 offices in Western Canada; 35 years later, CENTURY 21 Canada is 440 franchises strong, employing over 8,000 people across the country; today 90% of real estate brokerage offices in Canada are franchised.
I believe today that if your competitors are that interested in what you're doing – then you must be on to a good thing. As legendary
Manchester United
Football Club striker Eric Cantona once said "When people are talking about you, it means that you exist." For all of you budding entrepreneurs out there – whether in real estate or any other start-up business – the worst thing you can do is to become too focused on the strength and strategies of your competition. If you know you've got something better to offer and a solid business plan – whatever you do – don't let skeptics undermine your confidence.
Building a business is tough. In real estate like any other business, there will be disastrous years and ridiculously good years. The key is not to be influenced by either one, or the inevitable naysayers. We've been experiencing a roller coaster in the financial world in the past few years, but I can assure you that in my 35 years of experience, investing in real estate and the real estate business long-term will always keep you "in play"…no matter what the skeptics said yesterday, or say today or will say tomorrow!!! Hold the course k!! And to heck with them.
U. Gary
*Pictured above: U. Gary Charlwood accepting International Franchise Association Hall of Fame Award in 2008